RapidSERVE Nigeria Limited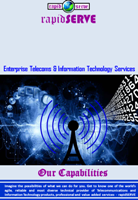 RapidSERVE Nigeria Limited
"We Are A Business and Consumer IT Solutions Company".
rapidSERVE is a leading independent telecommunications network and Enterprise IT service provider to the private and public sector, specializing in concepts and solutions design, sizing and specifications, sourcing and delivery, integration and construction, quality assurance, start-up testing and commissioning, optimization and enhancements, maintenance and operations, life-cycle management and obsolescence. We analyze, plan, design, build, roll-out, operate and maintain data centers, computing infrastructure and applications, databases and storage systems, telecom networks and sites, and their underlying support systems and internetworking infrastructures. We provide a complete range of telecommunications and information technology solutions for today's enterprise IT users, industrial communications and process control and automation, and telecom network providers.
OUR PRODUCT AND SERVICES
Infrastructure Solutions:
– Collaboration Solutions / Telepresence
– Process Control Networks
– Remote/Real-time Operations, Control & Integration
– Data Centre Solutions
– Disaster Recovery/Business Continuity Solutions
– Integration and Deployment
– Mobility and MPLS Unit
– Network Solutions (LAN; WAN; WiFi; GPON)
– WAN Optimization & High-Avaliability Solutions
– Integrated Network & Database Security Solutions
– Unified Communications (Data; Voice; Video)
– Backbone Infrastructure (Towers; Radio links; Cable links; GPRS; VSAT; DWDM/CWDM; MPLS)
– Mobile Communications (Plant mobile; Security mobile; Marine mobile)
– Fleet & Asset Management / Tracking Systems
– Video Surveillance, Intruder Detection/Alarms & Access Control Solutions
– Industrial Plant Communication Networks
– Entertainment Systems (CATV; IPTV; Video On-Demand)
– Content Networking
Software & Enterprise Apps:
– Oil & Gas Data and Information Management Solutions
– Content & Portal Solutions
– Unified Communications Solutions
– ERP & CRM Solutions
– Cloud Solutions and Services
– Application Delivery & Integration
Professional Services:
– 24/7 Network Operations Centre
– Desktop Support & Data Centre Management
– Document & Data Management
– Cloud / Managed Services
– Integration & Deployment
– Operations & Support
– Engineering & Design Services
– Lifecycle & Obsolescence Management
– Network/Application Performance Analysis, Monitoring & Optimisation
– Network Re-Engineering
– Telecoms Tower Integrity
– Site Management Services
….we design, procure, build, operate, support and optimize.
Send Message to listing owner
RapidSERVE Nigeria Limited