Pyrich Group Limited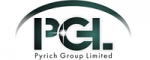 Pyrich Group Limited is a group of companies that provide a broad spectrum of world-class Information and Communication Technology solutions, Engineering and Power consultancy services. The company has grown steadily by building capacities and harnessing local and international expertise and key partnerships aimed at excellent delivery.
Pyrich has a strong brand value, leveraging on professional hands with vast experience in Information Communication and Technology; while maintaining good relationships with its clients. We are able to service diverse sectors of the economy as a result of our numerous years of experience working with our team of professionals. Each subsidiary of the group focuses on their respective areas in order to deliver highly specialized products and services.
Send Message to listing owner
Pyrich Group Limited