E-Brand Managers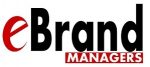 We are Experts in Website Maintenance, Social Media Management & SEO Services in Nigeria
We are a dedicated team of IT Experts
We solve your online business problems by providing dedicated team of IT experts to manage your website/social media operations, market your business online and boost your internet brand reputation.
We serve Businesses, Celebrities and Personalities
We help companies and high profile individuals in Nigeria manage their online presence so that they can focus on the core areas of their businesses.
We offer 30 Days money-back guarantee!
We give 30 days money-back guarantee on our services. So if you don't like our service within the first month (even though it's never happened before), we will return your money. You have absolutely nothing to lose. TRY US TODAY!
Send Message to listing owner
E-Brand Managers