Building Design Workshop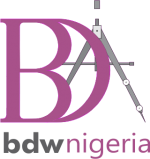 BDWnigeria was incorporated in 1995, as a wholly indigenous design company specializing in
architectural and landscape design, master planning, interior and space planning, project
management and development strategy.
BDWnigeria is a moderate sized company with its main and only office and studios in
Yaba,Lagos,Nigeria.
The practice has professional staff strength of architects, landscape designers, and project
managers. We also have the normal complement of technicians, administrative and general support
staff.
Our projects over the last 23 years has afforded us with an immense wealth of knowledge that stems
from practical experience and an in depth knowledge of the Nigerian construction industry.
BDWnigeria has been working continually in the field since 1995. Through diverse projects we have
perfected, learned and developed new design technology, using our own experience and the ever evolving
traditions of the area we find ourselves in. We consider every new project to be special with its own
individuality.
Our clients benefit from our hands on and personal approach to design. We work to ensure always that our
client's desires are designed with a high level of creativity and innovation, and delivered with the utmost of
integrity and care.
Our design creativity is further heightened by the interdisciplinary approach of our practice, where our
experience as landscape architects always comes to bear on our architectural projects and vice versa.
Send Message to listing owner
Building Design Workshop