BRISTOL FIRE ENGINEERING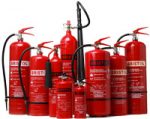 Bristol Fire Engineering, is the first firefighting equipment manufacturer in the Middle East and leader in innovative firefighting solutions.
We've been steadfast in our developments and have grown to become unsurpassed in the industry for our quality, dependability, longstanding commitment and and unwavering dedication.
We've been determined to rise and continue to adopt the highest international and national standards in line with the UAE's goal to become the safest country in the world. Bristol was one of the first firefighting companies to receive an ISO 9001 certification in the Middle East, placing a great emphasis on achieving international approvals on product certifications such as Kite Mark, LPBC, UL listing, FM and many Civil Defense approvals in the market we operate in.
Send Message to listing owner
BRISTOL FIRE ENGINEERING