Wenzhou Unique Valve Co Ltd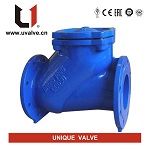 About Us:
China Unique Valve Co., Ltd., located in Wenzhou, Zhejiang, is an indsutrial valves manufacturer and supplier in China that specializes in manufacturing and developing industrial valves, with the commitment to provide customers with superior products and services.
Wenzhou Unique Valve Co., Ltd.specializes in manufacturing ASME, ANSI, DIN, JIS, Gost and GB Gate Valves, Globe Valves, Check Valves, Ball Valves, Butterfly Valves. Having been supplying many clients from all over the world for years. We not only supply premium-quality products in reasonable price but also provide rapid delivery service.
Welcome to visit our factory. We will appreciate it if you could put our company on your vendor list and send inquiries from time to time.
Unique Industrial Valves Range:
Size: 1/2-8 Inch, DN15-DN200, 1/2 – 6 Inch, DN15-DN150, 1/2 – 2 Inch, DN15-DN50, 1/2 Inch – 12 Inch, DN15-DN300, etc.
Pressure Rating: Class 150 – 2500 LB, PN16-PN420, Class 150 – 600 LB, PN16 – PN100, etc.
Material: Forged Carbon steel, Cast iron, Ductile Iron, Carbon steel, Stainless steel, Alloy steel, Aluminium Bronze, including ASTM A105, ASTM A105N, ASTM A182 F11, ASTM A182 F22, ASTM A182 F304, ASTM A182 F304L, ASTM A182 F315, ASTM A182 F315L, ASTM A182 F316, ASTM A182 F316L, ASTM A182 F321, ASTM A182 F347, ASTM A182 F5, ASTM A182 F51, ASTM A182 F53, ASTM A182 F55, ASTM A182 F6a, ASTM A182 F9, ASTM A182 F91, ASTM A182 LF2, ASTM A216 WCB, ASTM A216 WCC, ASTM A216?WCA, ASTM A217 C12, ASTM A217 C12A, ASTM A217 C5, ASTM A217 WC1, ASTM A217 WC6, ASTM A217 WC9, ASTM A350 LF2, ASTM A350 LF3, ASTM A350 LF5, ASTM A351 CD3MN, ASTM A351 CD6MN, ASTM A351 CF3, ASTM A351 CF3M, ASTM A351 CF8, ASTM A351 CF8C, ASTM A351 CF8M, ASTM A351 CT15C, ASTM A352 LC1, ASTM A352 LC2, ASTM A352 LC3, ASTM A352 LCB, ASTM A352 LCC, ASTM A743 CN3M, ASTM A743 CN7M, ASTM A995 4A, ASTM A995 5A, ASTM A995 6A, ASTM C954, ASTM C95800, ASTM A351 CE8MN, ASTM A351 CF3MN, SS 304, SS 316, SS 410, SS 416, SS 420, SS 431, SUL 904L, etc.
Ends: BW, RTJ, Wafer, Lug, NPT, SW, Flanged, etc.
Operation: Handwheel, Gearbox, Electric, Pneumatic, Level, Worm gear, etc.
Standards: API 602, API 609, API 600, ASME B16.34, DIN 3352, EN 1984, API 6D, BS 1868, API 598, EN 12266, etc.
https://www.uvalve.cn
Send Message to listing owner